Dear Partners in Mission:
April 6th is a day when the church commemorates three artists pivotal in the time of the reformation. Albrecht Dürer (died 1528), Matthias Grünewald (died 1529), and Lucas Cranach (died 1553) used the power of images to supplement what the reformers were communicating in their words.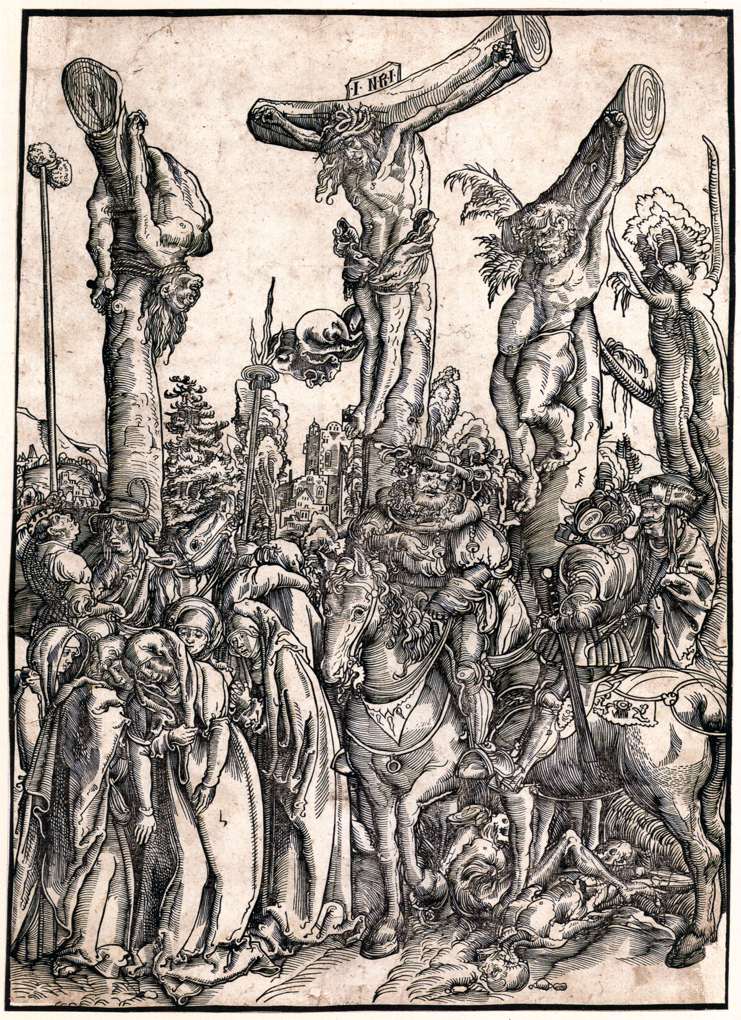 "The Crucifixion" Lucas Cranach the Elder
That we commemorate these leaders at the beginning of Holy Week is rightly appropriate. This week is full of rich images and story. The passion takes up a significant portion of each of the gospel narratives. As Lutherans, theologians of the cross, this narrative is central to our understanding of God's grace poured out for the life of the world. God on the cross: in solidarity with human suffering, dying so we might live.
Holy Week 2020 will be unlike any we have ever experienced. A week typically full of communal gatherings will be one in which we continue to serve our neighbor by keeping appropriate physical distance. This is our calling now and in a recent blog post our Briarwood Leadership Center director Dr. Robert Smith outlines why it is so vital for us, in this pandemic, to love our neighbor by staying home as much as possible. https://www.ntnl.org/for-the-love-of-god-and-neighbor-dont-gather-for-worship/
However, that does not mean that the community will not gather. Instead we will continue to be in social solidarity with one another as we gather through prayer and worship through the many and various means our creative and adaptive leaders have found to keep community in this time.
To aid our congregations and leaders Bishops Sue Briner (SWTexas), Mike Rinehart (Gulf Coast), and myself recorded sermons for Maundy Thursday, Good Friday, and Easter. These are available at https://www.ntnl.org/triduum-resources-from-texas-louisiana-bishops. Additionally, I will be recording a service of the Word and sermon for Easter 2 (April 19th) that will be available for download by Thursday April 4th. It is my hope that this offering can be utilized as congregations and leaders see fit to either supplement their worship that weekend or give their pastors and staff a break if so desired.
It is also good for our leaders to note that in the past week the CARES Act (Covid-19 relief) was passed. Congregations and church schools can potentially take advantage of this act if they follow the proper provisions. Last Wednesday I outlined some of those in a blog post. After consulting with our ELCA attorneys we expanded on that in this post on Friday. https://www.ntnl.org/cares-act-provisions-guidance-for-congregations-and-schools/
It is my prayer that the disruption of our normal will enable us once again to see and experience how God acts in disruption. Throughout scripture we experience the vivid images of God overturning the normal people experience. Abraham is called to leave home and familiarity for a promise. Moses must reject his privilege to seek God's face to bring freedom. The prophets challenge the status quo and speak for the forgotten and vulnerable. God is in the business of disrupting the normal.
Yet God's living Word, who spoke creation into being and became incarnate through the womb of Mary, pouring himself out for us on the cross is God's greatest disruption yet. For this disruption destroys the one power all human beings are subject to, the power of death. Whether we gather on Easter morning together or we do so at home the story is the same. Death's dominion will be defeated once more.
So as you go on your way through the vivid images of this Holy Week know you do so accompanied by the saints who have gone before and with my prayers and those of all of our synod. And may this new normal encourage us to seek to proclaim to all the world the power of God's active and living Word.
O God, your Son chose the path that led to pain before joy and to the cross before glory. Plant his cross in our hearts, so that in its power and love we may come at last to joy and glory, through Jesus Christ, our Savior and Lord, who lives and reigns with you and the Holy Spirit, one God, now and forever. Amen.  (ELW Prayer of the Day for Monday of Holy Week)