Camp at the Core
Briarwood Leadership Center's new Director, The Rev. Robert Smith, PhD, writes in his April 22 letter and blog:
Ever since I was invited into serious conversations about leading Briarwood into its next phase of its life as a Lutheran ministry, a single question kept resonating in my mind: what IS Briarwood anyway?
What I soon realized is that many people were asking the same question. Another early realization is that many other people—even if they were asking what Briarwood actually is—had some anxiety that the question was floating around.
Continue reading: Camp at the Core.
---
Questions in life | Los interrogantes de la vida
In her May column for Living Lutheran, ELCA Presiding Bishop Elizabeth Eaton takes time to reflect on one of "The Questions"—what is a life worth living? She reflects on the cruciform life, which delivers us from our constant striving to make our lives have meaning through our own efforts. Read her column in English: Questions in life, o lee su columna en español: Los interrogantes de la vida.
---
Resources for the Blind (Braille and Audio)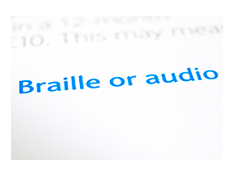 "Evangelical Lutheran Worship Braille Edition: Service Music and Hymns" (2016; ISBN 978-1-4514-7802-0) is available for purchase at evangelicallutheranworship.org. Additionally, both "Living Lutheran" magazine (published by the ELCA) and "Gather" magazine (published by Women of the ELCA) are available in CD audio versions, though we recently learned that the subscription websites are not ADA accessible for the Blind. If you need assistance obtaining an audio subscription, please email info@elca.org and/or Disability.Ministry@elca.org. We want to ensure that you can access these wonderful tools, which help members grow their faith and deepen their fellowship in the church.
---
Featured Resources for May
Mental Health Awareness Month
Each year, millions of Americans face the reality of living with a mental illness. During May, NAMI and the rest of the country are raising awareness of mental health.
The WhyCare? campaign is an opportunity to share the importance of care in our relationships to others, in mental health treatment and services, and in support and education to millions of people, families, caregivers, and loved ones affected by mental illness. Share information, images, and graphics to tell others what #WhyCare means to you.
When mental illness is present, the potential for crisis is never far from mind. Crisis episodes related to mental illness can feel incredibly overwhelming. There's the initial shock, followed by a flood of questions—the most prominent of which is: "What can we do?"
People experiencing mental illness—and the people who care for them—need information. However, that information is not always readily available and the search for answers may require more energy and persistence than possible in times of crisis.
"Navigating a Mental Health Crisis: A NAMI Resource Guide for Those Experiencing a Mental Health Emergency" (Crisis Guide) provides important, potentially life-saving information for people experiencing mental health crises and their loved ones. This guide outlines what can contribute to a crisis, warning signs that a crisis is emerging, strategies to help de-escalate a crisis, available resources and so much more.
Additional Resources
Mental Health America (MHA) has a full toolkit you can download.
MHA also has Mental Health Screening Tools. Taking a mental health screening is one of the quickest and easiest ways to determine whether you are experiencing symptoms of a mental health condition. Mental health conditions, such as depression or anxiety, are real, common and treatable. And recovery is possible.
The Anxiety and Depression Association of America (ADAA) has a #BreakTheStigma campaign, as well as a #MythBusters Twitter Chat @Got_Anxiety on Wednesday, May 15, 2-3pm Eastern.
---
Save the Date
Where in the world is?
Bishop Gronberg:
Pastor Totzke:
May 9-15: Vacation
May 18: Candidacy Committee, Briarwood
May 19: Gloria Dei & Ascension joint council meeting, Garland
Pastora Bañales:
(No visits planned this week)
---
Upcoming Events
Access our full online Calendar here. Updates made regularly.
---
Do you have news or announcements to share? Please submit to the Synod office (office@ntnl.org) for consideration for upcoming NT-NL News.